Review: Where the Crawdads Sing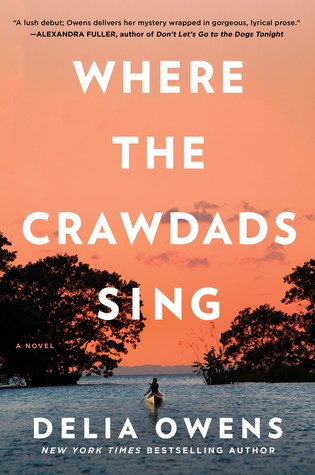 Title: Where the Crawdads Sing
Author: Delia Owens
384 pages, published August 14, 2018
Source: Library
From Goodreads:
For years, rumors of the "Marsh Girl" have haunted Barkley Cove, a quiet town on the North Carolina coast. So in late 1969, when handsome Chase Andrews is found dead, the locals immediately suspect Kya Clark, the so-called Marsh Girl. But Kya is not what they say. Sensitive and intelligent, she has survived for years alone in the marsh that she calls home, finding friends in the gulls and lessons in the sand. Then the time comes when she yearns to be touched and loved. When two young men from town become intrigued by her wild beauty, Kya opens herself to a new life–until the unthinkable happens.

Perfect for fans of Barbara Kingsolver and Karen Russell, Where the Crawdads Sing is at once an exquisite ode to the natural world, a heartbreaking coming-of-age story, and a surprising tale of possible murder. Owens reminds us that we are forever shaped by the children we once were, and that we are all subject to the beautiful and violent secrets that nature keeps.
The main reason I chose to read this book is because I am reading all the Reese Witherspoon book club picks. What I've loved about reading all her book club picks is that it has gotten me to read books I normally wouldn't have picked up--like this one. I'm sure glad I did! This book was fantastic! Beautifully written--I could picture the marsh, hear the birds, feel the breeze. The author's description of the location was so wonderful. I absolutely adored Kya Clark. Her story of survival after being abandoned by literally everyone was amazing. This book beautifuly weaves together a story of survival and coming of age with a love story and a bit of mystery that will keep you turning the pages. I'd been in a reading slump before reading this and was so happy to be hooked into this book--I hated putting it down and was sad to see it end. A beautiful book that is absolutely worth reading!
Happy Reading!