TLC Book Tours: The Amendment (Review and GIVEAWAY!)
Mass Market Paperback: 336 Pages
Publisher: Unsolicited Press (June 26, 2018)
When Lavinia Starkhurst's husband is killed in a freak accident, she takes to the open road and meets a number of strangers, all with struggles of their own. Through these unexpected and occasionally hilarious encounters, Lavinia reflects on her past deeds, both good and bad, explores her two marriages, her roles as caregiver and wife, hoping all the while for self-acceptance and something to give her new life meaning.

Purchase Links

At first glance, this book seems like it could be sad and depressing--but that is definitely not the case! It was so fun to follow along with Lavina on her road trip and read about all her adventures. It's a witty, fun, and entertaining quick read that will definitely make you smile! The chapters are shorts so it's easy to read "just one more chapter" and then discover that you've read over 100 pages in one sitting, as I did. The story is just so fun that it's hard to put down. Though the writing is simple, Lavina as a character has so much depth and is so interesting. A great read!
About Anne Leigh Parrish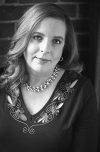 Parrish is the author of five previously published books of fiction: Women Within, a novel (Black Rose Writing, 2017); By The Wayside, stories (Unsolicited Press, 2017); What Is Found, What Is Lost, a novel (She Writes Press, 2014); Our Love Could Light The World, stories (She Writes Press, 2013); and All The Roads That Lead From Home, stories, (Press 53, 2011). She is the author of over forty-five published short stories, and numerous essays on the art and craft of writing. Learn more by visiting her website at www.anneleighparrish.com.
Connect with Anne

To follow the full tour, click here.
a Rafflecopter giveaway