Review: Nine Perfect Strangers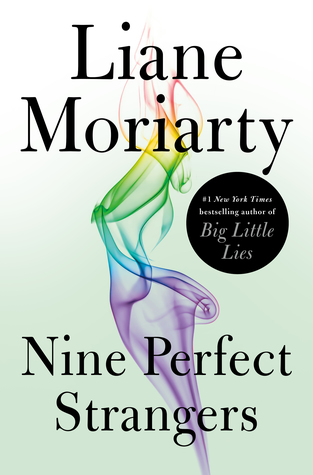 Title: Nine Perfect Strangers
Author: Liane Moriarty
453 pages, published November 6, 2018
Flatiron Books
Source: Book of the Month
From Goodreads:
Could ten days at a health resort really change you forever? In Liane Moriarty's latest page-turner, nine perfect strangers are about to find out...
Nine people gather at a remote health resort. Some are here to lose weight, some are here to get a reboot on life, some are here for reasons they can't even admit to themselves. Amidst all of the luxury and pampering, the mindfulness and meditation, they know these ten days might involve some real work. But none of them could imagine just how challenging the next ten days are going to be.
Frances Welty, the formerly best-selling romantic novelist, arrives at Tranquillum House nursing a bad back, a broken heart, and an exquisitely painful paper cut. She's immediately intrigued by her fellow guests. Most of them don't look to be in need of a health resort at all. But the person that intrigues her most is the strange and charismatic owner/director of Tranquillum House. Could this person really have the answers Frances didn't even know she was seeking? Should Frances put aside her doubts and immerse herself in everything Tranquillum House has to offer – or should she run while she still can?
It's not long before every guest at Tranquillum House is asking exactly the same question.
I can't believe this is my first time reading Liane Moriarty! I really enjoyed this book. All the characters were so engaging and entertaining. Normally with this sort of book I always have characters that I feel like "Ugh, their chapter again??" But not with this book! I also didn't have any issue keeping them all straight, which can be a problem sometimes. Though there were characters I liked better than others, they were all interesting and complex. I connected with bits and pieces of several of them. The story did get pretty crazy as the book went on, but it was so crazy that I couldn't strop reading!

I definitely recommend this book--it has a bit of everything! It's listed as contemporary fiction but it's definitely part psychological thriller. A solid four star read!

I loved Moriarty's writing style and want to read more of her books! Which ones should I make sure to read? Big Little Lies, of course, but...others?

Happy Reading!