TLC Book Tours: Beautiful Bad (review!)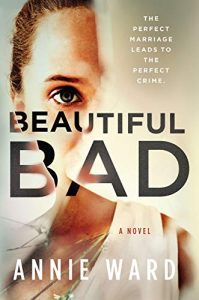 About
Beautiful Bad
Hardcover: 368 Pages
Publisher: Park Row; Original edition (March 5, 2019)
A devoted wife, a loving husband and a chilling murder that no one saw coming.
Things that make me scared: When Charlie cries. Hospitals and lakes. When Ian drinks vodka in the basement. ISIS. When Ian gets angry… That something is really, really wrong with me.
Maddie and Ian's love story began with a chance encounter at a party overseas; he was serving in the British army and she was a travel writer visiting her best friend, Jo. Now almost two decades later, married with a beautiful son, Charlie, they are living the perfect suburban life in Middle America. But when a camping accident leaves Maddie badly scarred, she begins attending writing therapy, where she gradually reveals her fears about Ian's PTSD; her concerns for the safety of their young son; and the couple's tangled and tumultuous past with Jo.
From the Balkans to England, Iraq to Manhattan, and finally to an ordinary family home in Kansas, sixteen years of love and fear, adventure and suspicion culminate in The Day of the Killing, when a frantic 911 call summons the police to the scene of a shocking crime.

Purchase Links
There was so much going on in this book! An intense psychological thriller with lots of depth, this book is a crazy ride. It did start out a bit slow for me, and there was so much backstory about Maddie, Jo, and Ian that it slowed the book down a bit. However, the background information was important to the story. What I really enjoyed about this book was trying to figure Maddie out in the few weeks before the mysterious incident. I liked the use of writing therapy to help the reader get to know about her relationship with Jo, as well as her past. But what was the truth? That's what kept me reading.
The book does have some trigger warnings, particularly to military related PTSD and some violence. It was at times a bit an intense read that I had to step away from for a bit for something lighter (I normally read a couple books at once). Overall though I enjoyed this book--once I got used to the jumping around and switching perspectives and things started to fall into place, I couldn't stop reading!
About Annie Ward
Connect with Annie