TLC Book Tours: How We Disappeared (Plus a Giveaway!)
Hardcover: 352 Pages
Publisher: Hanover Square Press; Original edition (May 7, 2019)
A beautiful, stunningly ambitious novel set in World War II Singapore about a woman who survived the Japanese occupation and a man who thought he had lost everything—for fans of Pachinko and We Were the Lucky Ones
Singapore, 1942. As Japanese troops sweep down Malaysia and into Singapore, a village is ransacked, leaving only two survivors and one tiny child.
In a neighboring village, seventeen-year-old Wang Di is strapped into the back of a troop carrier and shipped off to a Japanese military brothel where she is forced into sexual slavery as a "comfort woman." After sixty years of silence, what she saw and experienced still haunts her.
In the year 2000, twelve-year-old Kevin is sitting beside his ailing grandmother when he overhears a mumbled confession. He eesets out to discover the truth, wherever it might lead, setting in motion a chain of events he never could have foreseen.
Weaving together two time lines and two very big secrets, this stunning debut opens a window on a little-known period of history, revealing the strength and bravery shown by numerous women in the face of terrible cruelty. Drawing in part on her family's experiences, Jing-Jing Lee has crafted a profoundly moving, unforgettable novel about human resilience, the bonds of family and the courage it takes to confront the past.

Purchase Links

What an emotional yet beautiful book! I'll admit this one took me a while to get into--it jumped around between different characters and time frames, so it took me awhile to get my bearings. I loved the historical portions of the book, as I haven't read historical fiction set in Singapore before, and very little historical fiction from that time frame from the perspective of that area of the world--I usually focus on Europe. I was excited to read this book to learn more and gain a different perspective.
My heart broke for Wang Di--whose name literally meant "hoping for a brother." The mistreatment she endured as a "comfort woman" during the war was so difficult to read. Overall though I'm so glad I read this book because I learned so much, even if it was heartbreaking at times. I loved the characters--and what's even more emotional is that this story is based off of Jing-Jineg Lee's own family history. How brave of her to tell this story.
About Jing-Jing Lee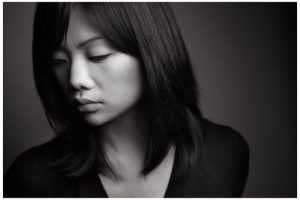 Jing-Jing Lee is the author of the novel, If I Could Tell You. Her poems have been published in Ceriph, Poetry Quarterly, Quarterly Literary Review Singapore, and Moving Words 2011: A Poetry Anthology. Jing moved to Europe in her early 20s and started to pursue writing full-time. In 2011, she gained a Masters of Studies in Creative Writing from the University of Oxford. She now lives in Amsterdam with her husband and is working on her second book of fiction. When she's not working on her novel-in-progress or reading (or taking photographs), she can be found on twitter.
Connect with Jing-Jing

Follow the full tour!
a Rafflecopter giveaway