TLC Book Tours: The Summer of Sunshine and Margot (Review)
Hardcover: 368 pages
Publisher: HQN; Original edition (June 11, 2019)
The Baxter sisters come from a long line of women with disastrous luck in love. But this summer, Sunshine and Margot will turn disasters into destiny…
As an etiquette coach, Margot teaches her clients to fit in. But she's never faced a client like Bianca, an aging movie star who gained fame—and notoriety—through a campaign of shock and awe. Schooling Bianca on the fine art of behaving like a proper diplomat's wife requires intensive lessons, forcing Margot to move into the monastery turned mansion owned by the actress's intensely private son. Like his incredible home, Alec's stony exterior hides secret depths Margot would love to explore. But will he trust her enough to let her in?
Sunshine has always been the good-time sister, abandoning jobs to chase after guys who used her, then threw her away. No more. She refuses to be "that girl" again. This time, she'll finish college, dedicate herself to her job as a nanny, and she 100 percent will not screw up her life again by falling for the wrong guy. Especially not the tempting single dad who also happens to be her boss.
Master storyteller Susan Mallery weaves threads of family drama, humor, romance and a wish-you-were-there setting into one of the most satisfying books of the year!

Purchase Links

I'm always excited for a new Susan Mallery release! I love her writing style, and her characters are always so fun. The Summer of Sunshine and Margot was a delightful story about two sisters going through changes in their lives and hoping to find love. Though I enjoyed both sisters' stories, I connected with Sunshine the most. I was so proud of her for making positive changes in her life like going back to school and being a fantastic nanny and friend to Declan's little boy, Connor (Connor was also a delight!). I also enjoyed Margot's journey, and appreciated her ability to change perspectives and look at things from her client's point of view. I loved the sisterly bond Sunshine and Margot had. So many great life lessons all wrapped up into this great summer read--with lots of romance, of course!

I devoured this book in just a few days--it would be a perfect long weekend or vacation read. This one is definitely worth adding to your summer reading list!!
About Susan Mallery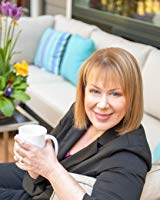 #1 NYT bestselling author Susan Mallery writes heartwarming, humorous novels about the relationships that define our lives-family, friendship, romance. She's known for putting nuanced characters in emotional situations that surprise readers to laughter. Beloved by millions, her books have been translated into 28 languages.Susan lives in Washington with her husband, two cats, and a small poodle with delusions of grandeur. Visit her at SusanMallery.com.
Connect with Susan

Follow the full tour here!