TLC Book Tours: Last Summer (Review + GIVEAWAY!)
Paperback:

302 pages

Publisher:

Lake Union Publishing (July 9, 2019)
From the Amazon Charts and Wall Street Journal bestselling author of the Everything series comes a new novel of love, lies, and deceit.
Lifestyle journalist Ella Skye remembers every celebrity she interviewed, every politician she charmed between the sheets, and every socialite who eyed her with envy. The chance meeting with her husband, Damien; their rapid free fall into love; and their low-key, intimate wedding are all locked in her memory. But what she can't remember is the tragic car accident that ripped her unborn child from her. Ella can't even recall being pregnant.
Hoping to find the memories of a lost pregnancy that's left her husband devastated and their home empty, Ella begins delving into her past when she's assigned an exclusive story about Nathan Donovan, a retired celebrity adventurer who seems to know more about her than she does him. To unravel the mystery of her selective memory loss, Ella follows Nathan from the snowcapped Sierra Nevada to the frozen slopes of southeast Alaska. There she discovers the people she trusts most aren't the only ones keeping secrets from her—she's hiding them from herself. Ella quickly learns that some truths are best left forgotten.

Purchase Links
I've read everything Kerry's written, including the Everything Series, All the Breaking Waves, her short story in J.T. Ellison's collaboration A Thousand Doors, and now Last Summer, her 2019 release, and I am consistently impressed by the quality of her writing and her ability to write a story you just CANNOT stop reading! Last Summer has such an interesting premise--as a psychology nerd I'm always drawn to anything mind or memory related. Why did Ella forget? Did she actually forget on purpose? How? What pieces of the puzzle are missing from her memory? All those questions keep you turning the pages as fast as you possibly can. I read the last two thirds of the book in one afternoon because once I really got into the story, I HAD to know the ending and how everything came together. I had some guesses early on about parts of the plot and what was going on, but the ending was still a surprise and left me excited about the story and wondering what happens next to Ella (though Kerry has said at this point the book is a standalone). The book is so fast moving during the last few chapters--I found myself racing through it but telling myself to slow down so I didn't miss any details! That's how much of a roller coaster the ending was.
I loved Ella as a character. Though I felt she made questionable choices at times, that's what made her REAL. I can't imagine that I would always make good choices when faced with whole chunks of my life missing from my memory. She was trying to piece things together and figure out what was going on and keep her job and her life together and was doing the best she could. This book is a wild ride you won't be able to put down and won't be able to stop thinking about once you finish it. If you haven't read any of Kerry's books--add all of them to your list. You won't be disappointed!
About Kerry Lonsdale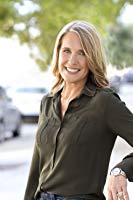 Kerry Lonsdale is the
Wall Street Journal
, Amazon Charts, and #1 Amazon Kindle bestselling author of the Everything series—
Everything We Keep
,
Everything We Left Behind
, and
Everything We Give
—as well as
All the Breaking Waves
. She resides in Northern California with her husband and two children. Learn more about Kerry at www.kerrylonsdale.com.
Connect with Kerry
a Rafflecopter giveaway