Blog Tour: Good Girls Lie (Review)
Publication Date: 12/30/19
Kobo
Perched atop a hill in the tiny town of Marchburg, Virginia, The Goode School is a prestigious prep school known as a Silent Ivy. The boarding school of choice for daughters of the rich and influential, it accepts only the best and the brightest. Its elite status, long-held traditions and honor code are ideal for preparing exceptional young women for brilliant futures at Ivy League universities and beyond. But a stranger has come to Goode, and this ivy has turned poisonous.
In a world where appearances are everything, as long as students pretend to follow the rules, no one questions the cruelties of the secret societies or the dubious behavior of the privileged young women who expect to get away with murder. But when a popular student is found dead, the truth cannot be ignored. Rumors suggest she was struggling with a secret that drove her to suicide.
But look closely…because there are truths and there are lies, and then there is everything that really happened.
I love JT Ellison's books--and couldn't wait to get my hands on Good Girls Lie! An elite boarding school, secret societies, mystery....this book had all the elements of a page turning thriller!! Though 400+ pages, I FLEW through this book and COULD NOT put it down!! I stayed up late to finish it because I HAD to know what happened. I'm typically not one for murder mysteries (psychological thrillers are more my thing) but I absolutely LOVED this book!
The book switched perspectives a bit, which at first though might be confusing but Ellison executed the chapters perfectly. I loved having both the dean's perspective and Ash's perspective. Between the title of the book and the mysterious main character, Ash, I knew something was off, but couldn't figure it out until it was revealed at the end. This sounds super weird, but even though this was a murder mystery, I was sad for the book to end! The characters were intriguing, and I loved the boarding school setting. JT Ellison knocked this one out of the park! If you're a JT Ellison fan, you will NOT be disappointed! And if you haven't read her books yet...pick this one up ASAP! I read this one at the tail end of 2019 and had to add it to my favorite reads of 2019 because it was THAT good!
About the Author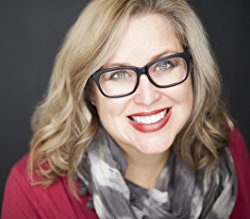 J.T. Ellison is the
New York Times
and
USA Today
bestselling author of more than 20 novels, and the EMMY-award winning co-host of A WORD ON WORDS, Nashville's premier literary show. With millions of books in print, her work has won critical acclaim, prestigious awards, and has been published in 26 countries. Ellison lives in Nashville with her husband and twin kittens.