TLC Book Tours: The Vineyard at Painted Moon (Excerpt)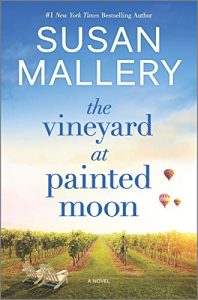 Publication date : February 9, 2021
Publisher : HQN Books; Original edition (February 9, 2021)
Step into the vineyard with Susan Mallery's most irresistible novel yet, as one woman searches for the perfect blend of love, family and wine.
Mackenzie Dienes seems to have it all—a beautiful home, close friends and a successful career as an elite winemaker with the family winery. There's just one problem—it's not her family, it's her husband's. In fact, everything in her life is tied to him—his mother is the closest thing to a mom that she's ever had, their home is on the family compound, his sister is her best friend. So when she and her husband admit their marriage is over, her pain goes beyond heartbreak. She's on the brink of losing everything. Her job, her home, her friends and, worst of all, her family.
Staying is an option. She can continue to work at the winery, be friends with her mother-in-law, hug her nieces and nephews—but as an employee, nothing more. Or she can surrender every piece of her heart in order to build a legacy of her own. If she can dare to let go of the life she thought she wanted, she might discover something even more beautiful waiting for her beneath a painted moon.

Purchase Links
Excerpt
The Barcellona family was a dynasty. If Mackenzie and Rhys had had children, her blood would have blended with theirs, adding to the whole in some way. But they hadn't, so when she was gone, there would be no legacy. No piece of her to be found anywhere.
Except in the vineyards, she reminded herself. She had made her mark there. The wines of Bel Après owed what they were to her.
"Tell me good news," Barbara said, motioning to one of the chairs pulled up in front of her desk.
Mackenzie took a seat. "Rhys has been checking the Seven Hills drip system. The weather's getting hotter and I want to make sure there's enough water to protect the vines. I've spent yesterday and today barrel tasting. I'll get you my notes by tomorrow."
"We have that very expensive software system for your tablet," Barbara told her with a gentle laugh.
"Yes, and maybe one day I'll want to use it."
"You can be stubborn, Mackenzie Dienes."
"I get that from you."
The teasing between them was familiar—they both often mentioned sharing traits, despite the lack of blood relationship. Even looking at the two, a stranger would assume they were related.
Both were about five six, with dark red hair. They had strong, lean builds and wore an air of confidence. Mackenzie's eyes were green, while Barbara's were brown, but otherwise, they could easily pass for mother and daughter.
Stephanie, Lori and Four all took after their father in looks, as did Rhys. They had dark hair and brown eyes. Rhys was tall, but the sisters were on the shorter side, and curvy, with Lori the closest to plus-size.
Mackenzie flipped through her notes. "The '18 reserve cab is coming along nicely. It's already lush, with plenty of forward fruit. It's going to be dense, and it will cellar at least fifteen years. It's going to be big. We'll want to put some aside for competitions and at allocations for wine club. I'll want at least ten percent of the bottles for the library. This wine is going to score high and get snapped up quickly. We can sell the remainder in five years for at least double the original price."
Barbara leaned back in her oversize chair and smiled. "You said it was a great year."
"It was. We had perfect conditions and a harvest to match. I want to hold it an extra three months before we sell it."
"What? No! You can't. The reserve is already scheduled to be bottled and we've told our wine club members when to expect it. There are events that—" Barbara pressed her lips together. "Mackenzie, you're being overly cautious."
"Three more months. I promise, it will be worth the wait."
"It had better be," Barbara grumbled. "Do you know the costs of keeping that many barrels in storage?"
"As a matter of fact, I do." Down to the penny. She might not run the business side of the winery, but she knew all the numbers.
She heard familiar footsteps in the hallway and smiled. Seconds later, Rhys walked in. He crossed to her, bent down and kissed her lightly on the mouth, before greeting his mother.
As he took his seat next to Mackenzie, he said, "You were right about the Seven Hills irrigation. Several of the drip lines had been chewed through. How do you know when stuff like that happens?"
"I just get a feeling."
Bel Après had acreage all over southwestern Washington State and into Oregon, from Red Mountain to the Walla Walla Valley and south to Seven Hills. The different areas had distinct characteristics that influenced the grapes. Mackenzie liked working with the various topographical challenges each vineyard offered.
Everyone was hot for Red Mountain, and she thought the vineyards there were special, as well, but she could make her magic just about anywhere. She supposed her ability to go with the flow, so to speak, was because she didn't own any of it. She was married to Rhys, but as for her work at Bel Après, she was simply an employee. She got a paycheck twice a month, along with quarterly royalties from her Highland wines, but at the end of the day, she worked for Barbara.
Her house was part of the Barcellona family compound, her truck was winery property. She supposed if she were to suddenly pack up and leave, she could fit everything that was actually hers into a handful of moving boxes and be gone in a few hours.
An unexpectedly sad thought. Not that she was going anywhere. This was home. Rhys was her husband, Stephanie was her best friend and Barbara was pretty much the closest thing to a mother she'd ever had.
She was a Barcellona, she reminded herself. In spirit if not in name. She was a part of the fabric of the family. If sometimes she thought about how nice it would be to buy a few acres just to play with, well, that wasn't going to happen.
There were more footsteps on the stairs. Stephanie and Four joined them. Stephanie sat next to Mackenzie and immediately started talking.
"Carson leaves tomorrow. I don't think I can let him go."
Mackenzie grabbed her friend's hand and smiled. "You do this every summer. He's been going to baseball camp since he was eleven. Yes, you'll miss him, but it's for the greater good. Let him go. It's what he wants."
"You're being rational. I find that offensive."
Mackenzie laughed. "No, you don't."
Stephanie's mouth turned up at the corners. "Okay, I don't, but why is this so hard? I thought it would get easier. But every summer it's just as painful to know he's leaving."
"You love him and you like having him around."
"I know. I suppose part of it is that he's gone the whole summer. When he gets back, we're two weeks from school starting. Why does camp have to be so long?"
Barbara turned toward them. "Dear God, Stephanie, let it go. We're all aware that you have trouble setting your children free. Catherine, say something about the cycle of life or the universe having angels to take care of teenage boys."
Four smiled. "You'll have more time with Avery. Maybe plan a girls' weekend in Portland or something."
Stephanie brightened. "You're right. That would be fun. Thank you."
"Order restored," Barbara said dryly. "Hallelujah."
About Susan Mallery
No.1 New York Times bestselling author Susan Mallery writes heartwarming, humorous novels about the relationships that define our lives – family, friendship, romance. She's known for putting nuanced characters in emotional situations that surprise readers to laughter. Beloved by millions, her books have been translated into 28 languages. Susan lives in Washington with her husband, two cats, and a small poodle with delusions of grandeur.

Connect with Susan