TLC Book Tours: No Pain, No Gaines (review)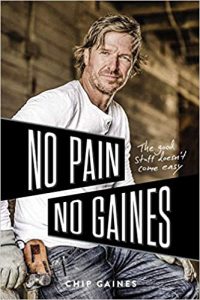 Hardcover: 224 Pages
Publisher: Thomas Nelson (March 16, 2021)
Chip Gaines likes to sweat.
That's been true ever since he was a little pint-sized hustler selling candy and Capri Suns down at the public tennis courts in northeast Texas. You've probably seen him sweat on his television show, Fixer Upper. Deep in his bones he has always known that hard work yields great results, even when there's little observable evidence of it. On the cusp of launching into what might be the hardest work he and his wife, Joanna, have ever done—building a network—Chip realized that none of it would be possible without his network of people.
Call it a network, a community, a home team. We've all got one. Today it might be made up of your family, your neighbors, the people you work with. But if you want a network that will pull you into a life of meaning, a life of joy and connection, you need to be intentional about choosing the people in it. People who are enlivened and electrified by the power of living according to their purpose, who are always in pursuit of lifelong learning, and who have a sincere belief that relationships are more than transactions. Chip Gaines has been building that kind of network his whole life, and he can tell you, it doesn't come easy.
To say it requires sweat equity would be an understatement. It requires faith in people. It requires hope. And it requires a willingness to grow even when it hurts. From hard-won lessons and personal stories from Chip, No Pain, No Gaines is a by-the-bootstraps manual for building a network you can count on.

Purchase Links

I'm a huge fan of Fixer Upper, so I was excited to read this book! It was so much more than what I thought it would be--in a good way. We've all seen Chip as that goofy, always having fun while working guy on TV--and this book highlights his work ethic, drive and determination in ways that are so inspiring. He's authentic, honest, and encouraging. He clearly articulates the value of networking and making real human connections. There are so many fun stories and anecdotes along the way--even from Chip's family. There are even handwritten "Bottom Line" messages at the end of every chapter. My favorite was "Living true to yourself is a nonnegotiable." (page 32).

My favorite chapter was Chapter 10--"Interactions, Not Transactions." He stated in the beginning of the chapter because he would afraid it would upset people because he talked about the challenges of being famous, and being reduced to "that guy on tv" instead of a real human. However,he did an excellent job of showing how we do this to so many people in our lives--reducing them down to a specific role and not seeing them as a whole, real human.
This book is absolutely worth the read. I read the physical book--but I'm sure it would be fantastic on audio as well. Four stars!



About Chip Gaines
Chip Gaines is the co-owner and cofounder of Magnolia and a New York Times bestselling author of The Magnolia Story and Capital Gaines: Smart Things I Learned Doing Stupid Stuff. He is constantly reinventing the wheel on what we can achieve together and is always eager to give back to individuals and communities.
Born in Albuquerque and raised in Dallas, Chip later graduated from Baylor University's Hankamer School of Business with a marketing degree. An entrepreneur by nature, Chip has started a number of small businesses and has remodeled hundreds of homes in the Waco area.
But more than any good adventure or hard-working demo day, Chip loves an early morning on the farm and a slow day spent with Jo and their five kids.
Connect with Chip